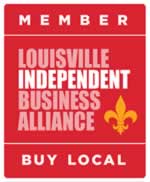 LIBA – Louisville Independent Business Association is for small and medium companies that are not part of a national company.  For example, local banks can join but the national banks are not members.
As you would imagine there are a lot of entrepreneurs, retail stores, local restaurants, local artist and various service businesses.  They hold a buy local fair every year and have various meetings at some of their different businesses.
The first meeting I went to was a bourbon tasting which is very much a local business and highlight for tourist in Kentucky as well as Louisville.
Recently we had a tour of the economic development happening in the West End of the City (the poorer side of the city that is experiencing a renewal and boom of new businesses).
The last meeting I attended was a tour of Jeffersonville, IN presented by  the Southern Indiana and the economic development agency that's called "SO IN" –  a great play on words. From Louisville, it's just a short walk via a footbridge across the Ohio river to downtown Jeffersonville. The bridge has led to the growth of new stores, new restaurants and boutiques.  One of sweetest stops was the old candy shop where they still make candy by hand. Of course we enjoyed some tasty samples:)
It was great to meet so many new business owners and share the experience with my new Bookkeeper – Marla Blanchard of MJB's Bookkeeping Solutions. http://mjbsbookkeeping.com/   She is a great help with my QuickBooks.