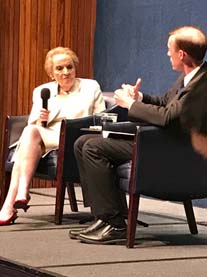 On July 20th to 22nd I attended the fifth Truman Scholars Reunion. As a member of the first class of Truman Scholars – 1977 from CT I enjoy these events to meet the new Scholars and see many of my friends from past years such as Mark Cannon (Executive Dir APCO), Bob Van der Velde (Dean of CA College), Kent Bradley (Medical Doctor and Past Public Health Advocate) who have been attending these events for many years. I also caught up with many other friends from past meetings. The Truman Scholarship Foundation gives out at least 53 scholarships each year for a student from each State, DC, Puerto Rico and the Islands. The Scholarship is in honor of Harry S. Truman in the form of scholarships for those going into public service instead of a Statue. [ For more information about the Truman Scholarship (scholarship for Juniors in college going into public service) see website https://www.truman.gov ] .
Friday Night we had dinner and speaker at the DC Press Club. Madeline Albright – Past Secretary of State and Member of the Truman Foundation Board and Jake Sullivan a Truman scholar from MN 97 spoke about Foreign Policy. Sullivan is a senior fellow at the Carnegie Endowment for International Peace and Brady-Johnson Distinguished Practitioner in Grand Strategy at Yale University. He served in the Obama administration as national security adviser to Vice President Joe Biden and Director of Policy Planning at the U.S. Department of State, as well as deputy chief of staff to Secretary of State Hillary Clinton. It was a lively discussion
Saturday, we had a number of sessions and luncheon speaker of another Truman Scholar from MD 1987. Joshua A. Gordon, M.D., Ph.D., is the Director of the National Institute of Mental Health, one of the National Institutes of Health within the U.S. Department of Health & Human Services. Appointed in 2016, he leads the federal agency for research on mental disorders. He is a former assistant professor in the Department of Psychiatry at Columbia University, and former associate director of the Columbia University/New York State Psychiatric Institute Adult Psychiatry Residency Program. He spoke about opportunities in Public Service with Science from Academia to Government Service.