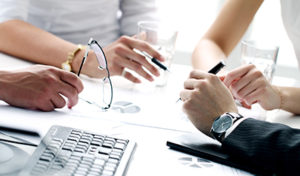 In the first blog post of this series, we briefly touched on this topic but I would like to go into more detail at this point. The first step of an Executive Search is to gather information from all the appropriate stakeholders about the agency and the position. This is done by obtaining budget/finance information, population served, services provided and current staffing of the agency.
To learn more about the agency's needs, meetings are set up with the key stakeholders such as management staff, working staff, customers/public/clients, associated organizations that work with the agency. For example if we are conducting a Town Manager Search we will speak with all the department heads, union or employee representatives, boards and commissions, appointing authority (Town Council), business groups in the community, colleges in the community, etc. We will also gather information about the community from sources such as the budget, economic development pieces, chamber of commerce sales information, web sites, charters and organizational charts.
This process can be used for any position. Once the information is gathered a color profile is put together with pictures and information about the agency and position which include:
Job Description
Organizational Chart
Staffing and Budget Information
Highlights and History of Agency
Characteristics of the Ideal Candidate
Qualifications and Challenges and Opportunities Facing the Candidate
See samples of profiles developed by Randi Frank Consulting, LLC
Questions? Contact me today!