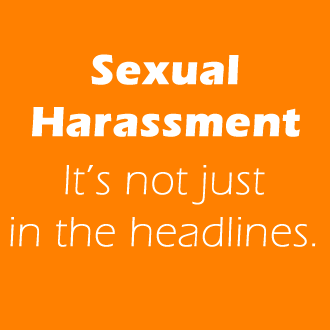 Yes, we have heard about the cases in Hollywood, Military, Tech World, and Political Offices but it is also happening in regular business offices. According to the National Association of Women Business Owners (NAWBO), "Sexual harassment is common in the startup community." A NAWBO survey found that 78% of women founders surveyed said they had been or knew someone who had been harassed.
I have been teaching Sexual Harassment Prevention Training since 1995 and every time I complete a class, I learn about another case of sexual harassment. Here are just a few of the stories I have heard:
A young man joined a national recruitment firm. He shared a secretary with his boss. On his first week of work he had a big project that required getting a lot of documents together for a client presentation. He went to the Secretary (female) to ask for her assistance. She said she would help him only if he slept with her. He decided to do the work himself. His boss's response was oh she is always like that!
Another woman told the story that her boss came on to her with flirting type of behavior. When it became more intense and she said no – he moved her out of the good job she had and moved her to another office which was like a demotion. That is called retaliation. She did hire an attorney and received a payment.
A young man started his first job after receiving his MBA. He was so excited about his degree and new job. On his first day he walked down the hall past a number of offices. Each of the woman he past held up a card with the number 7 to 9 rating his body. That is just as disrespectful as if it was done to a woman. Employees should be rated by their bosses only on their performance not their body parts.
There was a case where a CEO made crude remarks (sexual in nature or jokes) to an Administrative Assistant. She sued the agency and a Manager who witnessed these situations testified that he had heard the remarks by the CEO to the Administrative Assistant. Then the CEO terminated the Manager – the Manager sued and won for retaliation.
A Supervisor had sex with his Assistant and the next day that Assistant gets the plum assignment within a Team of 5 other people. Everyone on the Team knows about the Supervisor and Assistant hooking up and they are very uncomfortable working within this Team – This is called a hostile work environment.
See Tips on Sexual Harassment Training for more information on this topic– The tips highlight training, what policies should say and what companies and agencies should do to create a harassment free workplace that treats everyone with respect.
Contact Randi Frank if you're not sure your policy or training is up to date.
Randi can give you a quote for Sexual Harassment Prevention Training and Policy Development.