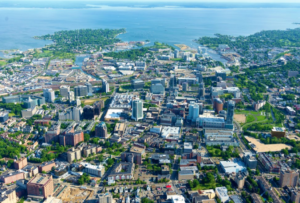 Our firm (Randi Frank Consulting, LLC) has been hired by the City of Stamford to assist them with the recruitment of the Stamford Director Of HR.
If you are interested in this position and want to be considered for this great opportunity, please mail or email your resume and cover letter by April 19, 2019 to Ms. Frank. Top candidates will be asked to complete a questionnaire so early applicants will have more time to prepare responses.
The Director of Human Resources shall develop, manage, administer, supervise and direct the programs and activities of the Human Resource Department under the general direction of the Director of Legal Affairs and Mayor in the functional areas of: recruitment and termination practices, labor relations, workers compensation, retirement, employee benefits, performance improvement process, compensation and classification systems, human resources policies and procedures, etc. The Human Resources Department functions as the local Civil Service administration for the City of Stamford and Stamford Board of Education with responsibility of insuring compliance to Civil Service Rules for the selection of all applicable staff. The Director directs the implementation and negotiation of 10 union contracts.
Qualifications:
The qualifications required would generally be met with a Masters' Degree in Human Resources, Public Administration or related field, or a J.D. and more than ten years increasingly responsible Human Resource work experience including three years in a manager/leader capacity; or an equivalent combination of experience, education and training. Preference will be given to those candidates with experience in labor relations, union negotiations, employee benefit and retirement administration. Certification by SHRM or IPMA-HR or NPELRA are a plus. Alternative candidates are welcome to apply if they can demonstrate quality management, leadership and organizational skills to take the HR Division to the next level.
Please contact me via email or phone if you have questions about the position.  We would really appreciate if you could share this information with your network or let me know of names of potential candidates or groups and associations I can contact that may know of potential great candidates.
See attached document for more details about the City Of Stamford and the role on the Director of HR.
More information is also available on websites:
www.choosestamford.com    www.stamfordct.gov    www.stamfordct.gov/human-resources